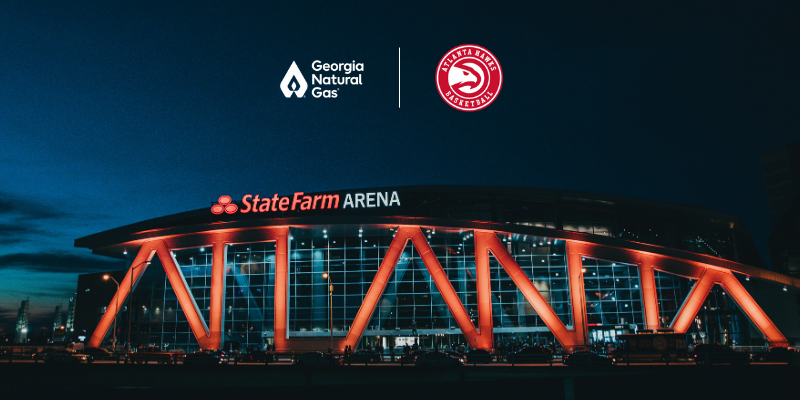 October 25, 2023
ATLANTA, Oct. 25 -- The Atlanta Hawks and State Farm Arena today announced a new multi-year, sustainability-focused partnership with Georgia Natural Gas, making the Atlanta-based corporation the official natural gas provider for the Hawks and State Farm Arena.
The two organizations will team up to help State Farm Arena offset 100% of its natural gas usage by joining the "Greener Life® for Business" program. Through the program, Georgia Natural Gas will calculate the amount of greenhouse gases released from the venue's natural gas usage and retire carbon offsets to balance 100% of those emissions. This will support the award-winning venue's efforts to further reduce its carbon footprint.
"Sustainability is part of the Atlanta Hawks DNA within State Farm Arena, and our new partnership with Georgia Natural Gas will help us continue on our forever journey to be more sustainable," said Head of Sustainability Sofi Armenakian. "This partnership enables us to tackle climate change through a meaningful collaboration, offsetting natural gas emissions to prove that sport and sustainability can coexist."
"Natural gas plays a vital role in running the homes and businesses of our half a million customers here in Georgia, and we are proud to become the Arena's official natural gas provider," said Mike Braswell, President and CEO, Georgia Natural Gas. "Now through this partnership, one of the city's most treasured organizations and venues will join our nearly 25,000 customers who have chosen Greener Life to help them meet their clean energy goals. We are honored to be a partner in this important effort."
State Farm Arena's use of verifiably authentic offsets will comply with the protocol related to the credible use and public reporting related to offsets, including accurate measurement of our greenhouse gas emissions, authentic reduction efforts, and the development of a plan that will help us move towards less emissions.
This partnership will be highlighted through original content from Hawks Studios, the nationally recognized in-house creative team, which will create a unique piece that tells the story of the two organizations' shared mission for a sustainable future.
"We are thrilled to team up with Georgia Natural Gas, the leading natural gas marketer in Georgia, on many exciting and important initiatives," said Hawks and State Farm Arena Chief Revenue Officer Andrew Saltzman. "As two organizations aligned around sustainability and leaving this planet better off for the next generations, this partnership will be truly impactful for our city and the entire State of Georgia."
This unique partnership will highlight various opportunities to further the Hawks' and Georgia Natural Gas' commitment to cleaner solutions throughout the season including:
The food and beverage page of

StateFarmArena.com

which highlights the venue's culinary story and gives fans a preview of the various food and beverage offerings online will be sponsored by Georgia Natural Gas.

During the season, Georgia Natural Gas will be the presenting sponsor for one Hawks' game, which will include various integrations and marketing support from Hawks'-owned social media channels.

Georgia Natural Gas will serve as the presenting partner for its weekly interview show with Hawks Chief Executive Officer Steve Koonin on SportsRadio 92-9 The Game.

The College Park Skyhawks will team up with Georgia Natural Gas for multi-faceted marketing collateral including themed jersey takeovers. In addition, Georgia Natural Gas will be the presenting sponsor for one Skyhawks' game. This partnership will also designate Georgia Natural Gas as the official natural gas provider for the College Park Skyhawks.
To date the Georgia Natural Gas' Greener Life program has offset more than 275 million pounds of carbon emissions from the atmosphere. When customers sign up for Greener Life, Georgia Natural Gas offsets the emissions from the customer's natural gas use, making it carbon neutral. For the average customer, offsetting greenhouse gas emissions with Greener Life is equivalent to driving 10,000 miles less each year, according to the Environmental Protection Agency's Greenhouse Gas Equivalencies Calculator. Greener Life offers customers an easy way to be environmental stewards. For more information, please visit gng.com or gng.com/greenerlife.
The Hawks and State Farm Arena continue to lead the way in sustainability. To learn more about the organization's efforts in sustainability, visit StateFarmArena.com/sustainability.
To learn more about the College Park Skyhawks, visit CPSkyhawks.com.
 
# # #
 
ABOUT THE ATLANTA HAWKS
Committed to entertaining and uniting the city of Atlanta since 1968, the Atlanta Hawks & State Farm Arena, under the leadership of Principal Owners Tony Ressler and Jami Gertz, continue to build bridges through basketball by following its True to Atlanta mantra. On the court, the Hawks' exciting young core is led by All-Star point guard Trae Young as the organization received the NBA's top ranking in overall in-game experience for the last two seasons. Off the court, the Hawks organization focuses on positively impacting the lives of Atlantans through providing access to youth basketball, fighting food insecurity, and the recent transformation of State Farm Arena into Georgia's largest-ever voting precinct for the 2020 elections. The Hawks family also includes the College Park Skyhawks (NBA G League) and Hawks Talon Gaming Club (NBA 2K League). Atlanta Hawks Membership, which includes your seat for every home game for the 2023-24 regular season, is on sale now at www.hawks.com/membership or by calling 866-715-1500. For more information on the Hawks, log on to www.hawks.com or follow us on social media @ATLHawks.
ABOUT STATE FARM ARENA
Home to the NBA's Atlanta Hawks, the award-winning State Farm Arena is a next-generation sports and live entertainment venue focused on experience, sustainability and service. Inspired by the city, the venue features premium restaurant options as well as experiential and celebrity-inspired spaces. In 2022, State Farm Arena became the world's first venue to earn TRUE (Total Resource Use and Efficiency) Platinum certification for zero waste. State Farm Arena consistently ranks among the top 10 concert and event venues in the world from industry-leading publications Pollstar and Billboard. In 2021, Pollstar Magazine ranked State Farm Arena No. 5 on its year-end list of top arenas. Accessible to every fan, the downtown Atlanta arena hosts approximately 175 events and close to 2 million guests annually and stakes its claim as the city's best sports and live entertainment venue. For more information on State Farm Arena, visit StateFarmArena.com or follow on Twitter @StateFarmArena and Instagram @StateFarmArena.
ABOUT GEORGIA NATURAL GAS
Georgia Natural Gas is part of SouthStar Energy Services. SouthStar is owned by Southern Company Gas, a wholly owned subsidiary of Southern Company (NYSE: SO). SouthStar also operates Ohio Natural Gas, Florida Natural Gas, Pennsylvania Energy, Grand Rapids Energy (in Michigan) and in other parts of the Southeast as SouthStar Energy Services. SouthStar's subsidiaries in Illinois operate as Illinois Energy and Illinois Energy Solutions.
Georgia Natural Gas and Atlanta Hawks and State Farm Arena are not affiliated, and none has any obligation or liability with respect to the products or services to be provided by the others. All trademarks noted herein are held by their respective owners.
# # #